North Dakota Runner
|
home


Scott Reichenberger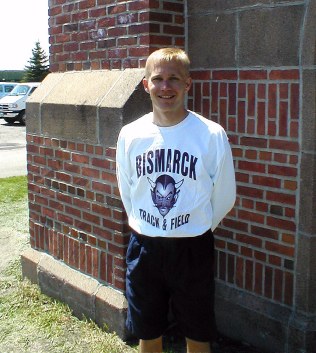 Hometown: Bismarck
High School: Bismarck High
College: Moorhead State and University of Mary
800 2:00 (High School)
1600 4:23 (High School)
3000 9:00
3200 9:42 (High School)
5000 15:30
10000 32:22
Marathon 2:44:32 (First Marathon, 2001, Bismarck Marathon)
Honors:
High School

All-State track and cross-country.
College

All-Conference track 1500, 3000 and All-Conference cross country.

Head Girls cross country coach and assistant Girls Track coach at Bismarck High.
Current Running Activities
Very little currently (early 2002) because of injury. Lots of H20 running. Hope to begin running soon with consistency.
Memorable running event
Being a member of the 1987 state championship cross country team. It was special because it was 15 years since the previous championship for the Bismarck High boys. Our coach, Darrell Anderson, was a vital member of that 1972 team. He was an awesome coach to run for. It was his first state championship boys team!
Favorite place to run
Dirt trail along the west side of Missouri River (Bismarck).
Other Activities beside running
Water running and biking - a lot lately because of injuries. Always prefer running to any other actiivities!
Comments on running and it's impact
I ran my first race at the age of 10 - YMCA Road Runner Race - 2.6 miles! I've run hundreds of races since and still enjoy the competition as much as ever! I appreciate the feeling that racing brings - excitement/nervousness and miss it when I am unable to race. I love racing (when in shape!) because I am able to challenge myself to certain limits that I am unable to attain in many other areas of life. One of life's greatest feelings is setting a goal, working to attain it, and then accomplishing it!
To the Younger Runners
Running is one sport that regardless of talent level you can participate and improve greatly if you set your goals accordingly. (I was unable to place in any 7th grade track meets!). Running can provide many opportunities for yourself as it did for me with college scholarships, travel opportunities, and friendships.