North Dakota Runner
|
home


Jordan Hoffert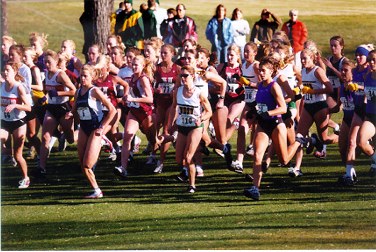 Hometown: Cando
High School: Cando
DOB: 1-6-79
College: NDSU
Jordan (NDSU) in the Shades
High School
800: 2:34
1600: 5:27
3200: 11:44
College
Indoors Outdoors
1000: 3:02.93 1500 4:52
Mile: 5:00.02 3000 10:29
3000: 10:25.39 5000 17:47.50
5000: 18:09.14 10000 35:56
3200 Relay: 9:18.91 NCC Record! 3000 Steeple11:22.11 800 Split 2:25
Cross Country 5K 17:58
Cross Country 6K 21:11.4
Roadraces:
5K 17:16
8K 29:53
10 K 37:40
Triathlons
1K/20K/5K 1:06.54
.25M/27M/3M 1:18.42
1M/27M/5M 2:23.31
1M/56.5M/13.1M 5:55.16
As you can see, Jordan is looking for a challenge... and is up to it!
Race Story!
I will never forget the time I was wrapped up in a huge blanket, sitting in the stands at Sioux City, IA with my running buddy, Kami Hill. Whe had planned on running the 10K that day. The weahter was awful...windy and freezing. We just sat there and thought what horrible luck we had with this Iowa weather. We were planning on qualifying for Nationals that day. Our coach, Ryun Godfrey comes up to us and says; "Are you ready?" I sarcastically replied with "Yes". We just sat there and seriously thought that there was no way we could run under these conditions. Se we raced the 10K At the first mile, I think it was right about 6 minutes. I thought..."wow, that is not bad at all. Mile after mile, I kept hitting these fast miles of about 6 minutes. I looked at my coach and didn't know if I should be going this hard. I was going to crash if I tried to keep this up for another 3 miles. The whole race, I felt nothing, no pain. When I crossed the line I hit 35:56.9. I was shocked...I think my coach was more shocked though. He said he was going to tell me to slow down, but was glad that he didn't. I ended up holding the fastest time in the Country for D II. The next day, I was knocked down to 2nd. It was fun while it lasted.
Favorite Place to Run:
Streets of Philadelphia (up the "Rocky" stairs).
Favorite Workout:
I used to love repeat 1000s. 6 of them with a quick recovery jog. Our coach would take our heart rate right before each one. That is the part I loved.
Favorite Race
TURTLEMAN TRIATHLON!
Other Activities or Workout beside Running:
I love to cycle and skate (rollerblade or hockey)
What has running meant to you?
Running has allowed me to meet so many great people. Many whom will remain my lifetime friends. I have been now introduced to the world of triathlons. I have completed my first 1/2 ironman last summer. My ultimate goal is to race in Ironman, Hawaii. Before that, I want to start out running 1/2 marathons and full marathons. Then I will work up to the Ironman.
I encourage all of you to give Tri's a shot. They are super rewarding. If you have any questions about the topic, write to me at runbaby23@hotmail.co