North Dakota Runner
|
home


Beth Hoge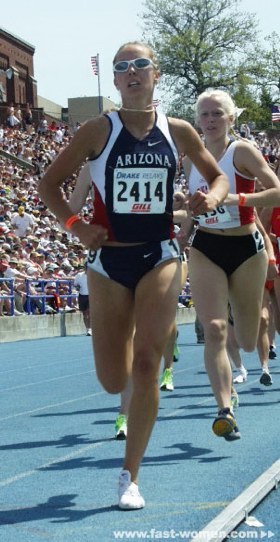 Hometown: Bismarck
High School: Bismarck Century
College: University of Arizona
800 2:15 High School
1500 4:27 College
1600 4:54 High School
4:48 College
3000 9:46 College
3200 10:40 High School
5000 16:24 College
11th at Footlocker Nationals (HS National Championship) in 1999.
25th at 2001 Division I Cross Country Nationals, helping her team to a 4th place finish.
Beth Hoge Leading 1500 Meters at Drake!
Most Memorable Running Event!
While running one event I stopped at a crosswalk and waited for the light to change. When it did I ran across the street and the next thing I know I am getting stopped by a police officer on a motorcycle. He wrote me up a ticket that turned out to be just a warning for using a crosswalk that had not been clearly marked. The white lines that identified the crossing had worn off and were no longer visible. The best part was when he asked to see my driver's license.
Favorite Place to Run
Trails in the Arizona mountains.
Why did you start running?
Convinced by my phy-ed teacher that cross country would be a good sport for me to try.
Other Activities
Mountain biking, rock-climbing