North Dakota Runner
|
home


Joe Karlgaard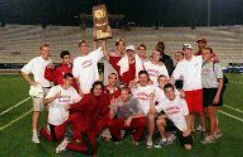 Joe with the 2000 Stanford Team at Duke after winning the NCAA title.
Joe is the one on the right w/red shorts and was on staff after an illustrious career at Stanford.
Hometown: Bismarck
High School: Bismarck High
College: Stanford
400 48.6 relay split
800 1:51.8
Honors
9 - time State High School Champion (800 indoor and outdoor, 4x800 relay, 4x400 relay, Team indoor and Team outdoor).
3 - Time PAC 10 qualifier in the 800.
Currently running recreationally.
Most Memorable Running Event:
I was on the staff at Stanford when they won the NCAA Outdoor Title at Duke in 2000. That was really fun. We got 64 points from the 800 and up, and we ended Arkansas' string of outdoor titles. Plus, my dad came down from North Dakota to watch the whole thing. We had a lot of fun.
Favorite Place to Run:
Huddart Park (Woodside, CA), or just about anywhere in rural ND where you can find some dirt roads.
Favorite Workout:
Anything involving lactate tolerance. My best workout in college involved two sets of 4x200 in 30 seconds with 30 seconds rest, 5 minutes of recovery, then 4x200 in 26, 27, 28, 27 with 10 seconds rest, 5 minutes of recovery, then an all-out 400 in 51.
Why did you start running?
I have never been able to get in the zone in any activity other than running or coaching runners. I love being in the zone, although I can probably count the number of times I've been there on my fingers.
Favorite Race:
The Cardinal Invite at Stanford in early May. A high quality distance event. As North Dakota meets go, I think our State Track Meet is one of the most exciting athletic events anywhere.
Other Activities
I like to read and I'm looking for a dog to spend time with me and my wife.
My biggest influences in running have been:
Darrell Anderson at Bismarck High, who always knew how to get me pumped for a race;
Corey Ihmels of Williston and Iowa State, who taught me how to win with class and that unbelievable things can come from ND high school runners;
Dave Zittleman of Mandan and Minot State, who never stops trying to learn new things about coaching;
Vin Lananna of Stanford, who shows what outworking your opponent can give you in results;
Jake Maas of Rapid City and Stanford, absolutely the most competitive athlete I've been around;
Steve Plasencia of Minnesota, who provides great perspective on running's place in our lives;
And Phil Lundin of Minnesota, who has won the love of his athletes with his ego-less teaching style.