North Dakota Runner
|
home


Sherill Ungerecht

Sherill was one of the top 45-49 year age group runners in the Country when he was in that age group and one of the top 50-54 year age group runners when he was in that group.
Even in his fifties, he was getting up at 4AM, summer or winter and running the country roads around Minto, ND before going to his job as a teacher at Minto High School.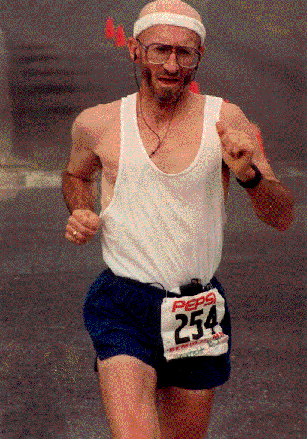 Hometown: Glen Ullin, North Dakota
DOB: 3-13-43
High School: Glen Ullin High School
College: Jamestown College
5000: 16:10
5 miles: 26:20
10000: 34:00
15000: 52:01
1/2 Marathon: 1:16
Honors:
Won Pepsi Challenge in 40 year group and won a trip to Hawaii.
Favorite Place to run:
Black Hills, up Spearfish Canyon. Minneapolis along the Mississippi River bike trails.
Favorite Workout:
Nice, easy ten mile run.
Favorite Race:
Bolder Boulder run in Boulder, Colorado. Well organized race for so many entrants (only a 10K).
Current Running:
Right now I am running approximately 8 miles every other day and then I do some biking and walking on the off day. I haven't really run a race in two years due to some burnout and some knee pain. At one time, I ran 70-90 miles a week and over 20 races a year.
Most Memorable Running Event:
The Border to Border Run in San Diego, California. It was a 10K race that crossed the border into Tijuana and circled around in that city. It was an interesting run, but it took some time going through customs in order to get back into the US after the race. This race takes place in January and the warm weather is also nice.
Why did you start running?
I started running at age 37 in order to stay in shape to play amateur basketball and soon my runs got longer and longer and I decided that I would rather confine myself to running and forget the basketball. Then running just became a good way to stay in shape and keep off weight and it provided a good means of competition and a good way to meet other people. I really enjoy getting up early in the morning and running around some of the cities before all of the hustle and bustle begins. A person gets a different perspective of the cities.
Current Activities:
Activity today is playing golf and running keeps a person in shape for that also. There was a time that on a Saturday, my goal was to put in an 18 mile run and shoot 18 holes of golf before noon. I can't do that anymore, but running still makes it easier to walk the golf course.
Overall, running just makes for a more disciplined life and provides for many challenges and experiences that are priceless..